A Little DIY Holiday Spirit
From Pumpkins To Jingle Bells ... Get Crafty This Fall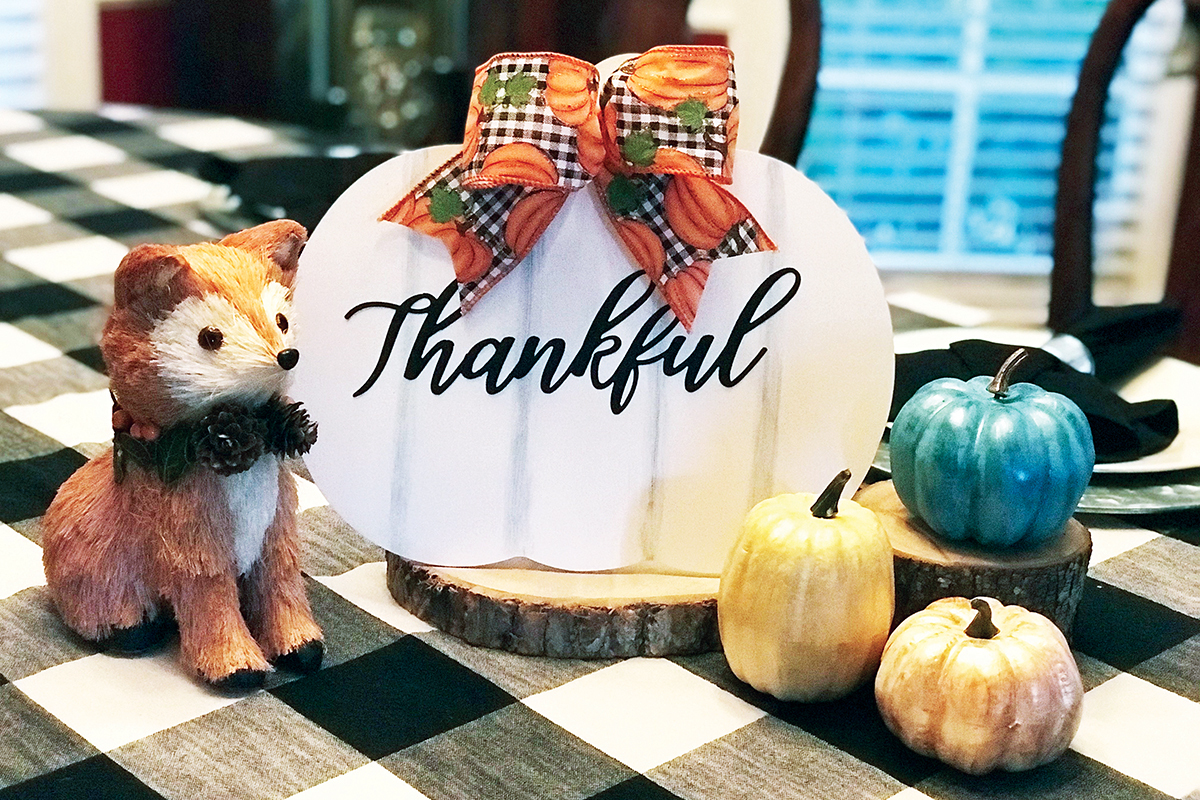 Autumn is here, and that means Halloween is near-ly upon us, and Thanksgiving is right around the corner, with Christmas following closely behind. For many, this is the most wonderful time of the year … without a doubt, it most certainly is for the crafty DIYer. However, it's also a tough time of year – not because of all the stress the hustle and bustle the season brings, but rather because it's so hard to choose which of the many DIY endeavors you want to tackle. After all, there are only three months to get them all crafted! If your crafty mind is spinning with fun and festive holiday projects, it's is difficult to narrow it down … but it can definitely be done. Let's dive in to a few simple and fun tasks that are perfect for the best crafting season of the year.
Pumpkins, pumpkins, pumpkins! Everyone loves these big, beautiful orange gourds that signal sweater weather is almost here. Decorating with them is the perfect way to prep your home for fall – and it's so much fun to create and play with different colors for these fall staples. Here are two pumpkin projects that will quickly become the perfect additions to your seasonal décor.
If you don't already have some on hand, inexpensive craft pumpkins can be purchased at your favorite craft or dollar store. For this project, opt for a variety of small- to medium-sized versions. Choose three or four colors (or more if you so desire) of latex or acrylic paint. If you wish to soften up your color choices a bit, mix them with some white chalk paint. I personally love turquoise – a big color trend for fall this year – but I don't necessarily want my autumn pumpkin to be too bright. By mixing the color with the white, a softer look will be maintained (this look goes especially well with today's popular farmhouse style). Now grab those pumpkins and paint away! For variety and a little extra flair for your gourds, hot glue burlap leaves or small raffia bows at their stem bases. Group the finished products together around the house (inside or out) or put some in a pretty glass bowl. These beauties are perfect for a Thanksgiving tablescape, too – one simple project for two separate holidays!
I always love craft shopping, but especially during late summer and early fall when all of the fun goodies for autumn's seasonal projects are starting to stock store shelves. While you may not particularly like the look of an item "as is," believe me, you can craftily transform it into an adorable decoration that you can use from year to year. On your shopping trip, pick out a larger pumpkin sign, a picture frame (of which only the back portion will be used), a set of galvanized words ("Thankful," "Harvest," and "Welcome," for instance), and a roll of burlap or other autumn-themed ribbon. Other supplies you'll need are black and white chalk or acrylic craft paint, a small piece of sandpaper, a medium craft paint brush, a foam brush, E6000 glue or super glue, and a hot glue gun.
Remove the embellishments from the pumpkin sign, if there are any. You can choose to use these on the finished product or not. Flip the pumpkin sign over and paint it white, stem and all. Allow the first coat to dry and apply another. In the meantime, choose one of the galvanized words and paint it black (chalk paint works best for painting on metal). Once the paint has dried on the pumpkin, use the sandpaper or sanding sponge to rough it up little for a more weathered look (of course, it's fine to leave it as is if you prefer). Mix a small amount of the white and black paints together to create a gray. Paint gray lines onto the pumpkin using a ruler, the edge of a notebook, or a piece of cardboard as a guide to keep the lines straight. If the lines are a little too bold, simply go over them with a little white paint to tone them down. Glue the metal word in the center with the E6000 or super glue. Tie a simple bow with the ribbon and hot glue it at the base of the stem. Next, flip it over and glue on the back part of the picture frame, creating a stand. Apply one final coat of white paint to finish it off. If you prefer to use this as a door hanger, skip the picture frame back and instead, loop a piece of jute through the holes on the top of the pumpkin. This is such a fun and easy project that can help kick off the Halloween season and be displayed right on through Thanksgiving.
Christmas will be here in the blink of an eye and we will quickly be thrown into the hustle and bustle of the season. With all that will be going on this time of year, it's so important to carve out a little time for ourselves – and for all you DIYers out there, this probably means time set aside to craft something special to highlight the spirit of the season. A handmade holiday ornament is so fun to make – and it's just as much fun to give them to friends, family, and neighbors … so let's get ornament making!
Old Scrabble tiles are great to craft with, and they are perfect for this simple little project. Letters from an old game can be used, or they can be purchased in bulk from various craft sources. These ornaments can easily be personalized, or they can feature generic holiday words, such as "Joy" and "Peace." For this Christmas craft, you will need the just-mentioned Scrabble letters, a low temperature hot glue gun, ribbon, and twine. Jingle bells are optional, but they do add a nice whimsical touch. To start, lay out a piece of ribbon and place the letters on it. When you cut the ribbon, be sure to leave extra space so it can be folded over, and for a bow if you choose to add one. Next, using the low setting on the hot glue gun, adhere the tiles onto the ribbon. Tie a piece of twine into a circle, thread the top of the ribbon through the circle, fold over, and glue. Jingle bells can be attached to so that they hang from the bottom of the ornament if you like. These are fun, easy, and make a wonderful keepsake to enjoy for many years to come.
I love snatching up pine cones as I take my grandchildren on our daily walks … and my family always ask me what in the world I am going to do with them. Well, here's my answer – pine tree forests! For this task, you will need pine cones, old wine corks, green spray paint, small wooden stars that can be purchased at any craft store, scissors, and a hot glue gun. Spray the outer edges of the pine cone green, leaving the inner area brown so that it resembles a tree. While the paint is drying, cut a wine cork in half and hot glue it to the bottom of the "tree." To finish it off, glue the star on top. These simple, adorable creations – the perfect holiday craft project to enjoy with the young ones in your life – make great ornaments, and can also be used among your holiday décor displayed throughout your home.
Autumn has arrived. The weather is getting cooler. It is time to pull out your sweaters. The holidays will soon be here. And all this means it's time to get crafting!
Dolores Riggins
Co-owner of Southern Suds & Gifts, located at 213 S. White St. in Downtown Wake Forest, featuring over 35 craftsmen and artists.