A Fun-Filled Fall In The Forest
Incredible Sights, Fearful Frights, Musical Nights, And Christmas Lights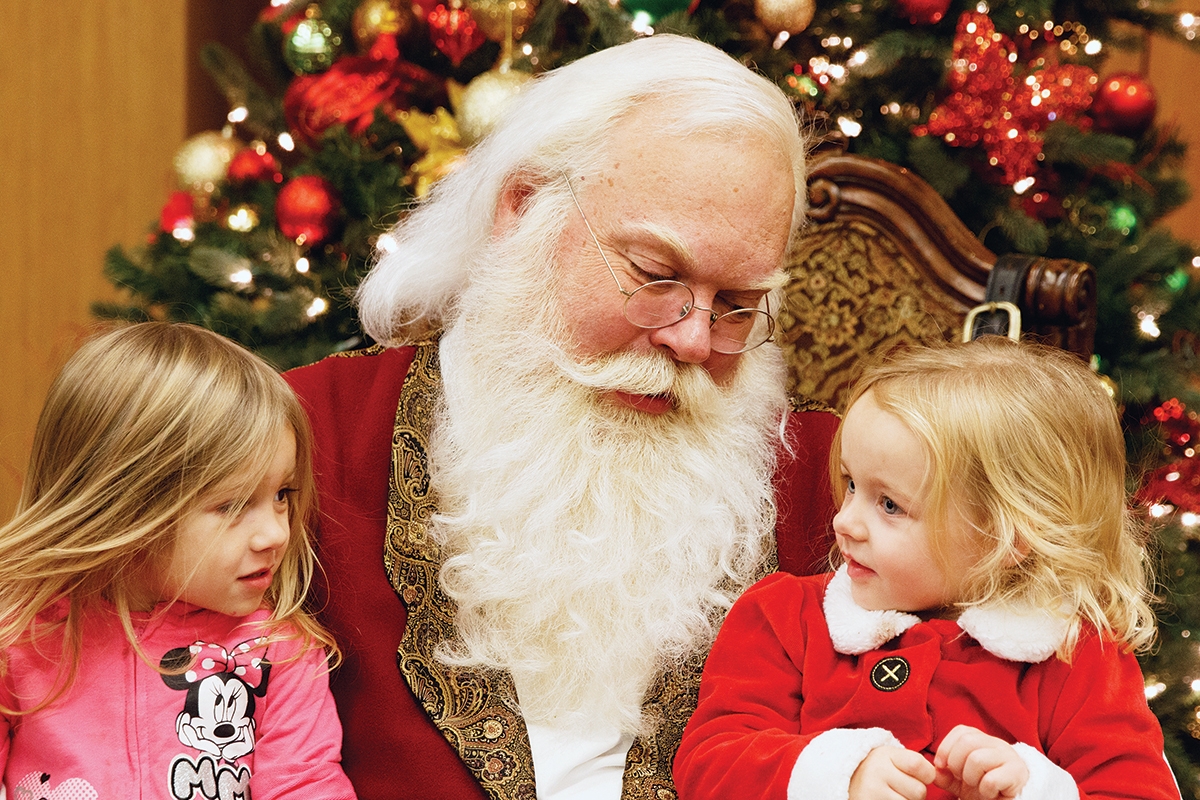 Looking for family fun this fall? The Town of Wake Forest has an exciting lineup of free community events and affordable entertainment options scheduled through the end of the year. With no details to plan, supplies to purchase, or messes to clean up, Town events and programs make it easy to meet your neighbors, make new friends, and support your community. From connecting with nature to enjoying your favorite holiday tunes, it's all covered here … so save these dates and get ready to enjoy a fun-filled fall in the forest.
Incredible Sights
The Wall That Heals
The Wall That Heals, a replica of the Vietnam Veterans Memorial, along with a Mobile Education Center, is coming to E. Carroll Joyner Park, located at 701 Harris Road, on Thursday-Sunday, October 18-21. Free and open to the public, the exhibit will be available 24-hours-a-day beginning at 8:00 AM Thursday, October 18 through 2:00 PM Sunday, October 21. The Welcoming Ceremony will be Thursday, October 18 at 4:00 PM. The Wall honors the more than three million Americans who served in the U.S. Armed forces in the Vietnam War and bears the names of the more than 58,000 men and women who made the ultimate sacrifice in Vietnam. For more information, visit wakeforestnc.govand search "wall."
Fall Foliage Tours
Enjoy the vibrant reds, oranges, and yellows of autumn while also learning about native trees during two "Fall Foliage Tours" on Wednesday, October 24 at E. Carroll Joyner Park. Urban Forestry staff will offer free one-hour tours at 10:00 AM and 2:00 PM. Folks of all ages are invited and no registration is required. Anyone interested in participating is encouraged to meet at the information kiosk located adjacent to the Joyner Park parking lot. For more information, visit wakeforestnc.gov and search "fall foliage."
Fearful Frights
Halloween Spooktacular
The Wake Forest Parks, Recreation & Cultural Resources Department will host its annual "Halloween Spooktacular" on Thursday, October 25 from 4:30 - 8:30 PM at the Flaherty Park Community Center, located at 1226 N. White Street. Presented by Tuscan Ridge Animal Hospital and Champion Windows, this year's festivities will include a costume contest, face painting, cupcake walk, pumpkin patch, and a variety of other ghostly games and activities. Free pumpkins will be given away while supplies last. The best costumes will be featured on the Town's social media pages, so get creative! This event is free and open to the public. For more information, visit wakeforestnc.gov and search "Halloween."
Musical Nights
Rockin' the Forest
Assembling some of the top musical acts in our area, Rockin' the Forest offers local audiences a chance to discover first-rate performers in a variety of musical genres. On Friday, October 26, the Wake Forest Renaissance Centre for the Arts welcomes the Magic Pipers, followed by Jim Quick & Coastline on Friday, December 28. Future Rockin' the Forest concerts are scheduled on January 18 (The Legacy Motown Review), February 22 (Big Love), and March 15 (The Catalinas). Advance tickets are $10. For more information, visit wakeforestnc.gov and search "Rockin."
Christmas Lights
Wake Forest truly comes alive during the Christmas season, so we've assembled a list of holiday happenings guaranteed to put you in the Christmas spirit. For more information on any of the following holiday events, visit wakeforestnc.gov and search "Christmas in Wake Forest."
Lighting Of Wake Forest
Experience the wonder and magic of the holiday season at the annual "Lighting of Wake Forest" on Friday, November 30. Sponsored by Traditions at Wake Forest and presented by Wake Forest Downtown, Inc., the tree lighting will take place in Centennial Plaza, located at 301 S. Brooks Street, the gateway to the Wake Forest Town Hall. The evening's festivities will get underway at 6:00 PM with the lighting of the Town's 30-feet-tall Christmas tree, followed by Santa Claus' exciting arrival aboard a Wake Forest fire truck. The event will also include performances by local choirs, a children's craft activity, complimentary pictures with Santa in the Town Hall lobby, and free hot cocoa and cookies while supplies last.
Wake Forest Christmas Historic Home Tour
The Wake Forest Historic Preservation Commission and the Wake Forest Woman's Club will present their biennial Christmas Historic Home Tour on Saturday, December 1 from 1:00 – 7:00 PM. Offered only in even-numbered years, the Christmas Historic Home Tour is a self-guided tour featuring several Wake Forest homes and other properties decorated for the holidays and open for viewing. Tickets are available for $20 each (price includes tax), and a limited number of tickets will be sold, with none being sold on the day of the tour.
Downtown Holiday Open House
Visit historic Downtown Wake Forest and experience a hearty dose of holiday cheer during the Downtown Merchant's Holiday Open House on Saturday, December 1. Sponsored by Wake Forest Downtown Inc., the Downtown Holiday Open House begins at 10:00 AM and will include special offers and complimentary refreshments at participating shops and restaurants, live entertainment, a food drive to benefit Tri-Area Ministry, and fun-filled activities for kids and families. A variety of special events and activities will also be offered throughout the day at no cost, including pictures with Santa.
Holiday Artisans Market
The Wake Forest Holiday Artisans Market will take place Saturday, December 1 from 9:00 AM – 3:00 PM inside the Renaissance Centre. ARTS Wake Forest and the Wake Forest Farmers Market are pleased to present the annual holiday market featuring handmade items in a wide range of prices.
Wake Forest Christmas Parade
Celebrate the holiday season at Wake Forest's largest community event. Widely considered one of our area's most popular holiday spectacles, Wake Forest's annual Christmas parade features over 100 colorful floats; several high school marching bands; entries from local businesses, churches, schools, and civic groups; and, of course, Santa Claus! Sponsored by PowerSecure and presented by Wake Forest Downtown, Inc., the parade takes place Saturday, December 8 at 1:00 PM, rain or shine.
Christmas Jubilee Concert
Celebrate the joy of the holiday season at the Renaissance Centre during the Christ-mas Jubilee Concert featuring Celtic Angels Christmas on Saturday, December 8 at 7:30 PM and Sunday, December 9 at 3:00 PM. The Sheeva Quintet, Celtic Knights, and Angel Dancers with Trinity Band Ensemble of Dublin captivate audiences of all ages with the Magic of Christmas in an awe-inspiring show which encompasses vocal and instrumental seasonal and Irish favorites along with spectacular world class champion Irish dancing. This show is a true holiday celebration of Christmas in Ireland. Tickets are $25 each plus tax.
Wake Forest Children's Choir Holiday Concert
The Wake Forest Children's Choir, under the direction of Kasie Brooks, will present an evening of holiday favorites on Tuesday, December 11 at 6:00 PM at the Wake Forest Renaissance Centre for the Arts. This event is free and open to the public.
Stay Connected!
Always be the first to know about Town of Wake Forest announcements, programs, and special events by signing up for E-Notifier at wakeforestnc.gov/enotifier.aspx, downloading the Town of Wake Forest app at wakeforestnc.gov/app.aspx, visiting the town's website at wakeforestnc.gov, or following the town on social media @TownofWakeForest.
Anna Bolton
Communication Specialist with the Town of Wake Forest. To learn more about town events, sponsorship opportunities, and how you can be involved, contact Anna.