A Fall Refresh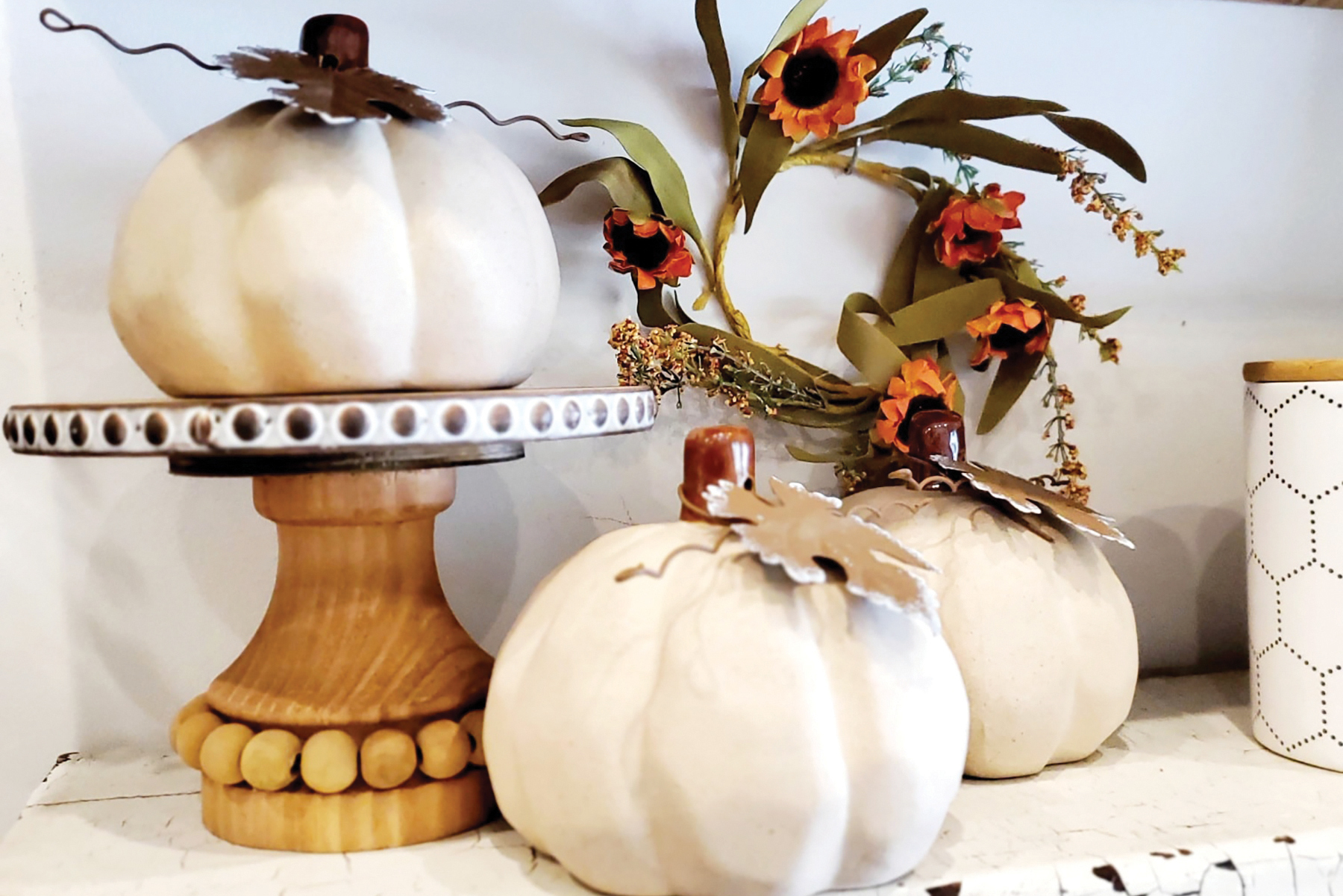 Seasonal decorating gives us an opportunity to give our home, the place where we spend most of our time, a much-needed refresh. As the autumn days get shorter and the temperatures begin to cool, now is the time to start decorating for what many people consider the most beautiful season of the year.
Decorating your home for fall does not need to be a daunting task. Some simple décor changes can make all the difference and alter the look of your space completely. Adding small seasonal décor items to each room can make a huge difference in how your home looks and feels.
Nature provides us with some of the best decor. Clippings of rosemary set in a vase or bowl can be placed on a tray displayed on your coffee table or side table. Not only does this natural herb smell amazing, it also sets the tone for an earthy autumn color scheme in your home. Eucalyptus is a wonderful, fragrant, seasonless greenery. Add this to your mantel along with some colorful mini pumpkins. Pinecones also make lovely additions to your decor and can easily transition to the next season. Bring in some branches from outside and showcase them in a beautiful vase. Artificial flowers and branches are also an option. While their cost may seem high, remember that these items can be reused, year after year. Timeless seasonal décor purchases are always an investment. A one-time large purchase of something you love will bring joy for years to come and ease to your seasonal decorating routine.
Another simple way to update your space for the season is to switch out pillows and throws on your seating (both indoors and out) to a seasonal color scheme. This is an easy way to transform the look of the space entirely. Pro tip: purchase seasonal pillow covers and just switch the covers for less of a storage mess.
Welcome your guests with a beautiful fall wreath of seasonal florals and colorful ribbons. Traditional wreaths, door signs, and basket wreaths are great décor investments that can be used year after year.
I love carving pumpkins; however, the task can be overwhelming. I find that investing in indoor/outdoor resin or wood pumpkins or seasonal fruit gives you a realistic and beautiful look without the mess and can be used again and again through the years.
Fall decorating tends to begin as early as September and usually remains up until after Thanksgiving Day. Three months of earth tones, nature, and the best fragrances is just enough time to prepare yourself for the most wonderful time of the year.
Transitioning decor items from autumn to winter can be simple. On your mantel, add a string of white lights to enhance the eucalyptus. Switch your pumpkins out for rustic gold bells and add a small sign with a Christmas sentiment. Spraying your branches with a touch of white paint will give them a snow-touched look. You can do the same with your pinecones for an instant seasonal makeover.
The star of the Christmas decorating season is, of course, the tree. Whether you decorate an artificial tree or a fresh cut one, it is important to start with the basics. Artificial trees require fluffing. This is an important step for making your tree look authentic and prepped to hold your precious ornaments. A fresh cut tree requires a day or two of settling once it is set in your home. String up the lights, place your garland, and select your favorite ornaments to adorn your tree. I prefer a "rustic" look, which essentially means my ornaments are neutral colored and incorporate lots of natural elements. For a more sophisticated look, choose a monochromatic theme for your tree. Using one main color and incorporating supporting shades can make decorating a less intimidating task. Add elegant ornaments and delicate ribbon to carry that theme through the room. Add a beautiful tree topper and a tree skirt or collar that matches your decorating style.
Seasonal decorating doesn't have to be a daunting task. Whatever your style, simple changes can make a big impact. Just remember to, as interior designer Billy Baldwin shared, "be faithful to your own taste, because nothing you really like is ever out of style."
Miriam Grueneich
Owner of archer + pratt, which offers locally handmade goods.