7 Tips For Outdoor Entertaining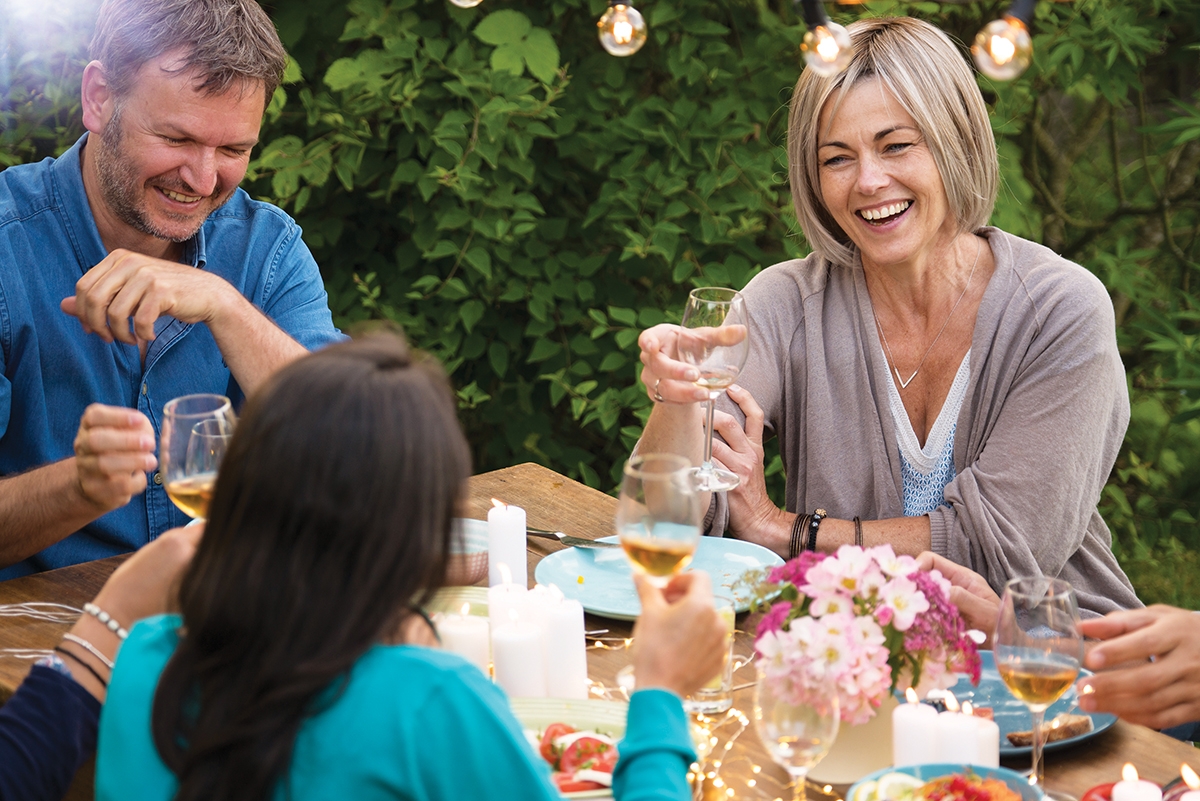 Having a great outdoor space at your home is so important if you like to entertain family and friends. During the spring and summer months, you're likely to want to spend time outside enjoying the beautiful weather. Following are some great outdoor entertaining tips that will let you enjoy this space and this time with family and friends, celebrating all of life's exciting moments.
1. CREATE STATIONS: Regardless of how many people are attending your gathering, you will want to have different stations established. These stations are for seating, food, beverages, dining, games (if applicable), etc. Designated spaces will help people know where to go as they move around the lawn, property, patio, etc. They also help with overcrowding of one area, and encourage guests to mix and mingle.
2. RELY ON THE GREAT OUTDOORS FOR SUPPLIES: When it comes to setting up a seating station, look around for tree stumps for additional seating options if you have an influx of guests who will be gathering around the firepit. Or use them as a small table for guests to set drinks and snacks upon while playing a game of bocce ball or horseshoes. Need game ideas for kids? Use rocks painted red and black and set up a game of checkers – or add some sticks for outdoor tic-tac-toe.
3. ADD POPS OF COLOR: Choose some flowers from your garden, colorful plates, or playful serving dishes to mix up the décor, making your entertaining space festive and fun. Another fun way to tie in color is with napkins and straws. Using colorful or patterned straws with mason jars for cups is a great way to change up the feel of an otherwise plain palette. Greenery is also an easy go-to for color. Grab some leaves and branches for added dimension for your tablescape or other sitting areas.
4. LIGHTING (OR SHADE): If your gathering is in the evening, add lighting to the table and seating area where your guests will be spending most of their time. Holiday lights are a great way to add some spunk and ambiance to a setting. Regular or flameless candles are another way to create a fun glow for an evening party as well. Paper lanterns are also creative options, and can offer additional texture and depth.
Don't forget the kids … grab some glow sticks at your local party store or dollar store – they provide hours of warm weather fun! If your event is a daytime gathering, be sure to have different shade options for your guests to escape from direct sunlight. Patio umbrellas and large trees are all great shade options. When you are thinking about seating stations for guests, keep these shade areas and options in mind.
5. LESS WORK, MORE PLAY: Setting up a drink station with cups, straws, napkins, an ice bucket, and different beverage options will allow your guests to feel empowered with choices and the ability to serve themselves, which will let you mix and mingle with them. A carefree host means a more relaxing, fun-filled gathering for everyone. For the kids, set out in a bucket of ice some juice boxes and small bottles of water. Your littler guests will love that they can help themselves to a drink when it's time to take a break from chasing each other around or playing a fun game.
6. THINK AHEAD: Being prepared for the benefit of your guests will be very much appreciated. Is it buggy outside? Have plenty of lit torches, bug spray, and anti-itch cream on hand. Super sunny day? Having some sunscreen readily available will be a very thoughtful gesture, especially if there are kids invited. Cool breeze coming in as the sun goes down? Offer some lightweight blankets in a basket to help keep them comfortable. There is no need to go overboard and run to the store. Most of these items you already have at home. Simply pull them out and have them waiting in a basket nearby so if you see a guest needing an item, or if they ask, it will be easily accessible without your having to remove yourself from the festivities to search high and low for it.
7. HAVE FUN: Every gathering is more enjoyable when the host or hostess is relaxed and having fun with the guests. Preparation can go a long way toward making the time much more fun for everyone – host and hostess included. Of course, things will come up unexpectedly from time to time, but roll with it and have fun!
This spring, take advantage of the warmer weather, the longer evenings, and your beautiful outdoor living spaces. Whether for a backyard barbecue, a birthday party, a graduation celebration, or just an impromptu gathering with friends and neighbors, make time to get outside and get together. Take pictures. Eat the dessert. Leave the mess to the morning. Enjoy the moment. And above all else, enjoy those around you – that's what life is all about.
Allison Caudle Abbott
Owner and broker-in-charge of Southern Lux Living, serving buyers and sellers throughout the Triangle.