5 Ways To Invite Fall Into Your Home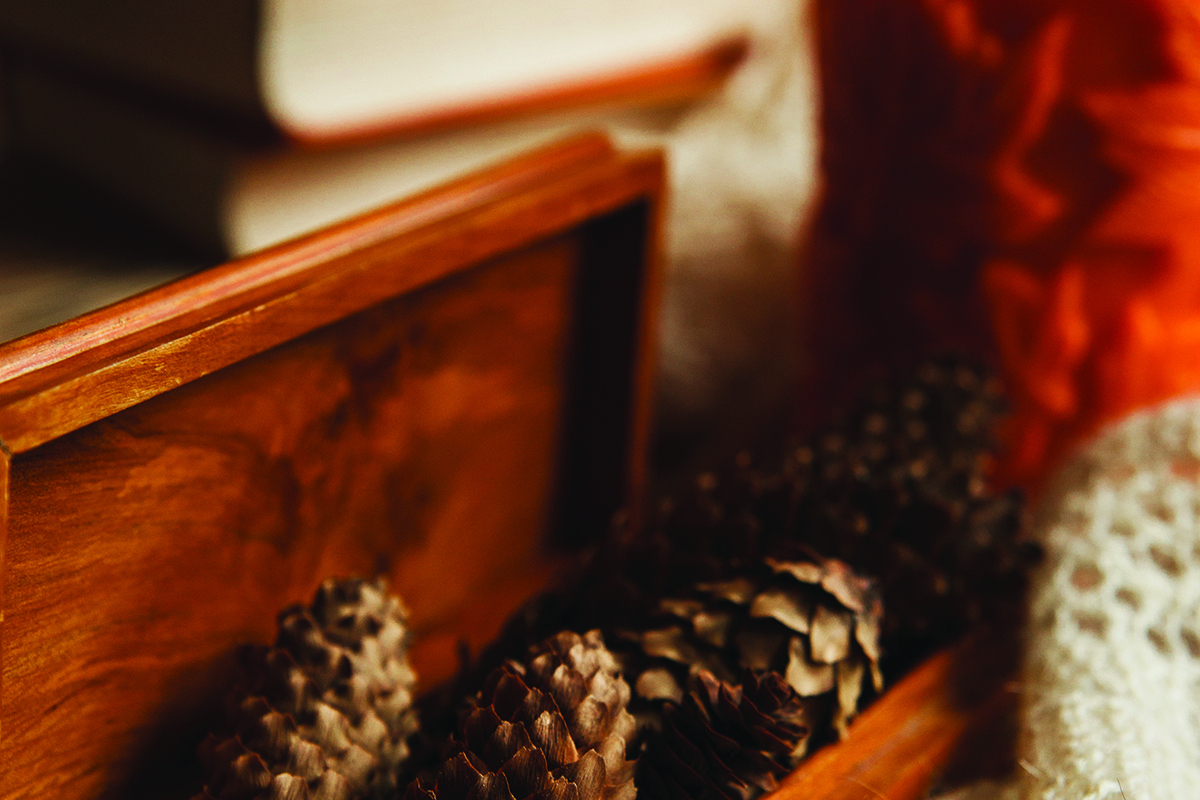 Fall means cooler temperatures outside, so it's time to bring some warmth back inside by filling your home with the wonderful colors, textures, scents, delicacies, and sounds of the season. Decorating for fall can be both fun and inexpensive. Natural materials are abundant and collecting them is a great way to spend quality time out of doors with kids, pets, family, and friends. There are countless easy DIY fall craft projects, plus arrangement and presentation ideas, that will give your home a warm and inviting feel and are just a quick Pinterest search away.
Colorful, fallen leaves can be transformed into seasonal art, candle containers, and fairy-lit garlands. Other free autumn decorating materials you might find outside include fallen pinecones; hydrangea blooms (which can be dried); bittersweet and grape vine; and oak, crabapple, and other tree branches, to name just a few. Even everyday groceries can serve as great fall decorations – from a bowl of apples or pomegranates to the assortment of squashes and pumpkins that keep for a long time and can be made eventually into yummy soups and delicious pies.
The key to decorating for this season is to create a feast for the senses, plus a feeling of comfort and sanctuary from the stresses of busy fall schedules and pre-holiday workloads.
1. Sight. When it comes to color, think outside the classic autumn palette of oranges, yellows, browns, and reds. Adding greens, whites, and blues to the mix makes it easy to update your fall décor for the holidays and the winter beyond. Adding warm, low lighting from candles and twinkling white lights is another great trick for making fall visuals pop.
2. Touch. There are plenty of great reasons to keep your home's temperature cool through fall and winter. Strategic placement of soft, cozy throws and blankets, slippers, and sweaters creates a perfect balance of staying warm and comfortable.
3. Smell. An autumn-themed simmer pot starring apples, cinnamon, citrus, and cloves, or a slow cooker warming flavored cider or mulled wine permeates your home with familiar and comforting scents. So, too, will plenty of baking and cooking of fall favorites, which brings us to …
4. Taste. Fall is the perfect time to enjoy a bounty of nutritious and fiber-rich seasonal fruits and vegetables. And while some fall favorites – such as roasts, pies, cider donuts, and caramel apples – might not be the healthiest, trekking out to local farms and harvesting your own food can provide at least a partial offset in terms of exercise. What's more, basically every traditional fall recipe now has a lightened-up version you can try.
5. Sound. Finally, for the sense of hearing in fall, enjoy the crackle of a wood fire or simply the sweet sound of silence that descends after summer's cacophony of lawn mowers and weed whackers. Trade-in your leaf blower for an old-fashioned rake and your neighbors will love you for it. Plus, you'll burn enough calories to enjoy all those sinful fall favorites guilt-free!
Todd Nelson
Owner of MaidPro of Raleigh and Wake Forest.