2021 Design Trends
Colors, Kitchens, Walls, Woods, Metals, And More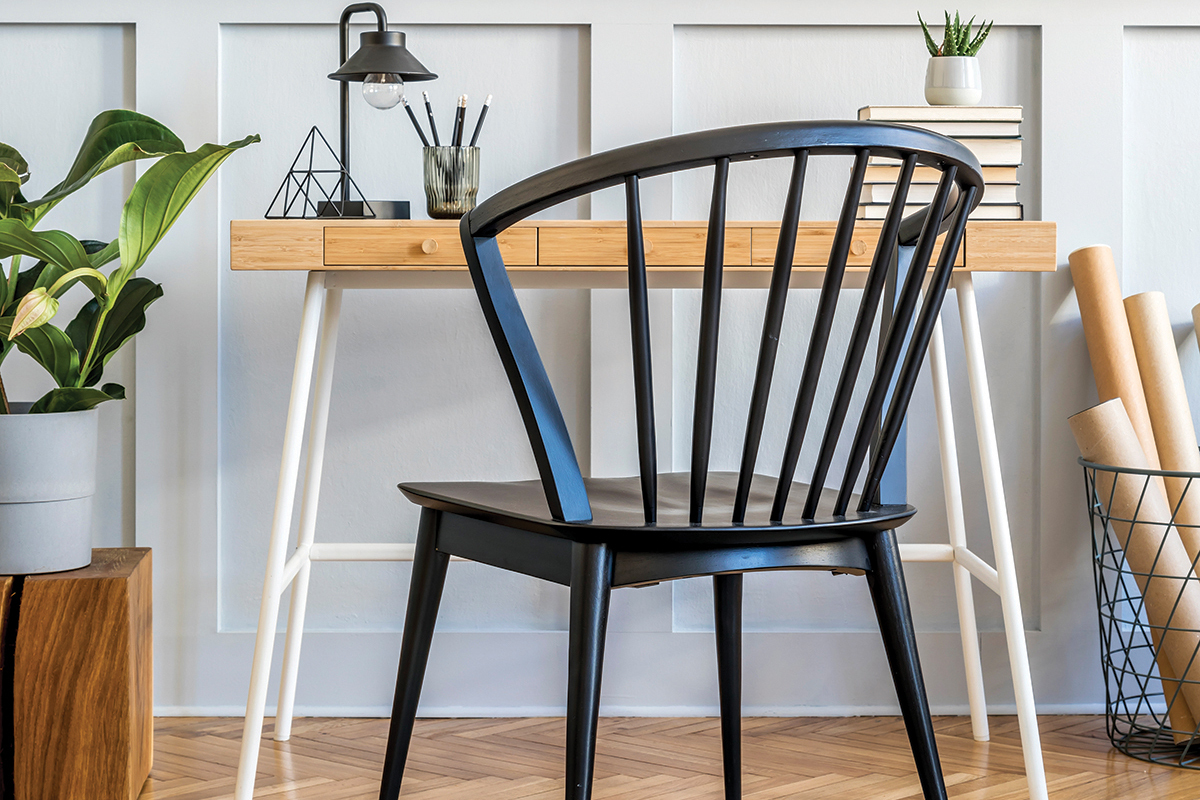 As we ring in a new year, we naturally reflect on the one we just left behind – and 2020 was definitely one for the record books. COVID-19 changed the dynamics of our homes and urged us to make them more comfortable, cozy, and efficient. Fortunately, home decor trends followed right along to ensure that our houses truly feel like homes.
When it comes to decorating trends, the first thing that usually comes to mind is paint colors. As I study the trends for the upcoming year, there seems to be no right or wrong when picking a color scheme. But the one thing that the hot hues have in common right now is a sense of warmth. Sherwin Williams' color of the year is Urbane Bronze, a brown with hints of warm gray. This is a fabulous neutral that mixes well with other warm grays and just about any warm-toned tint. Benjamin Moore's color of the year, Aegean Teal, is a warm mix of blue, green, and gray. Both have calm, cozy, and serene nuances. No matter which pigment route you take in 2021, consider earthy ones for walls with a splash of color to accent the space. If you are feeling a bit daring in the new year, incorporate that warm dash of color anywhere and everywhere!
Plants are at top of the trending list for 2021. With so much time being spent working and schooling from home, their popularity is on the rise. Plants not only add texture to a space, but they also freshen the air we breathe. Bringing nature indoors adds warmth and color, and helps with overall well-being. So tap into your green thumb this year and add a fresh design feature to your family room, home office, kitchen, etc. with plantings in beautiful pots or containers.
Carrying over from 2020, feature walls are still prevalent in today's decorating realm. Wallpaper in all types of patterns and textures are being showcased on them. Extra-large floral murals in updated, modern patterns are also on point for 2021. Wood trim walls in varying patterns are trending as well – symmetrical squares to abstract patterns, painted all one color or in varying shades. Fabric walls are slowly making their way to the scene, and are more about texture rather than pattern. Living walls – arrangements of plants situated on a vertical façade – are great additions to kitchens (think fresh spices available at the ready) and sunrooms. But just like other plants, they need to be in spaces where light is not an issue.
For a while, wood tones trended more on the medium to dark side. However, light woods – mostly inspired by Scandinavian and Modern Japanese influences – are making a comeback. These tend to be more of brown/gray undertones versus yellow … think bamboo. This light color mixes well with dark browns, blacks, and the warm paint colors I mentioned previously.
Now let's talk kitchens! While the hearts of the home are still on the "yes" list, they are now veering towards ones in warm whites versus bright whites. Stained cabinets are making a comeback as well, with tones similar to the wood colors just discussed. The mix of stain and painted cabinets are in style for today's home decorator. Think upper cabinets painted and lower ones stained, or vice versa. Having the island be a different paint color or stain finish has been the thing to do for a while, and still is very current.
Metals are always a hot topic for design trend forecasts. This year, gold tones are still making their way to the east coast. Today's gold of choice is a warm, brushed gold, not one that is brassy. This gold mixes well with the brushed nickel that has been around for a while – and isn't going anywhere. Both integrate seamlessly with the popular black finish. The mixing of metals brings lots of personality to a space, but it must be done right for it to work well. Faucets, knobs, and lighting can all be mingled, but the lines of these fixtures should be the same – for example, a stainless-steel curvy faucet and very straight-lined brushed gold light fixture will not complement each other, nor the space.
Last but not least, the most talked about trend of the year is the multi-functional space. 2020 forced many of us to work from home, do school from home, and just be home much more than usual. This brought with it the challenge of needing to identify work and learning spaces that wouldn't take over our houses. If you still need to tackle this project, know that when it comes to designating and designing these spaces, there are many available options ... for instance, guest rooms can serve as both a home office and a guest room by simply adding a murphy bed or sofa bed. Beautiful file cabinets that look like nightstands on either side can act as end tables. Nowadays, there are tons of multifunctional furniture pieces available, and with a little thought and creativity, these spaces can do double, or even triple, duty.
I think we are all ready for a new year, and a space that brings us comfort, relaxation, and peace. Implementing these top design trends will help us do just that. So embrace the warmth of the colors of the year, bring the outdoors in, splash some color on your walls, mix some metals, and enjoy the solace of home.
Rhonda Benvie Plummer
The owner of Help Me Rhonda Interiors and Open Door Furniture & Accents, a furniture and accessories store, in Raleigh. Visit www.helpmerhondainteriors.com or www.opendoorfurnitureandaccents.com, or call 919-263-9054.